DataLink has been active in the field ofGreek Business Computerization since 2002
providing reliable and complete IT solutions
aimed at the efficient utilization of business computer systems
What are we doing
Datalink provides a wide range of support services that can be easily adapted to the specific needs of each business and effectively address any requirement and need
Business Software
We use the modern, innovative business software systems with cutting-edge commercial technology, accounting, HRMS and ERP programs of SoftOne.
QlikView B.I.
QlikView Business Intelligence solutions help you get instant and accurate information about your company sizes leading to timely and informed decision making.
Remote Support
Immediate, reliable and secure technical support for remote computers. Solve problems without the need for a physical visit of the technician to the site, or to your office.
WebSite Development
Using CMS technology, we create websites that combine motion, effects, complex graphics and sound, presenting a very impressive image of a corporate website and multimedia applications.
Mobile facilities
Now you can manage and be informed about all the events of your business while you are on the move from your mobile phone or tablet.
Holder of the " Excellence in Customer Service" award in the research conducted by Softone with the total level of customer service satisfaction amounting to 95%!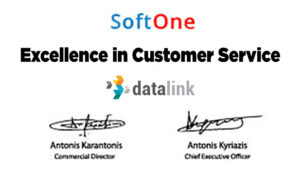 Datalink remains for years years at the top in the nationwide network of Softone partners with 55 certifications
* Panhellenic ranking of Softone associates based on certifications and Business Area